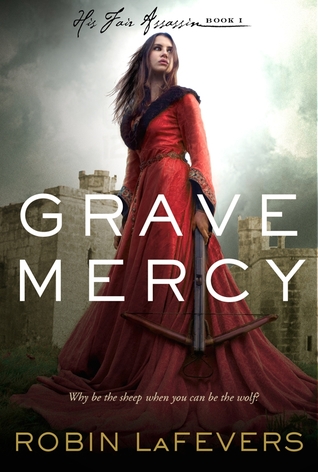 Summary:
Why be the sheep, when you can be the wolf?
Seventeen-year-old Ismae escapes from the brutality of an arranged marriage into the sanctuary of the convent of St. Mortain, where the sisters still serve the gods of old. Here she learns that the god of Death Himself has blessed her with dangerous gifts—and a violent destiny. If she chooses to stay at the convent, she will be trained as an assassin and serve as a handmaiden to Death. To claim her new life, she must destroy the lives of others.
Ismae's most important assignment takes her straight into the high court of Brittany—where she finds herself woefully under prepared—not only for the deadly games of intrigue and treason, but for the impossible choices she must make. For how can she deliver Death's vengeance upon a target who, against her will, has stolen her heart?
Series: His Fair Assassin #1
Genre: Young Adult/Fantasy
Release Date: 3 April, 2012
Publisher: Houghton Mifflin Books
Purchase: Amazon
ISBN: 9780547628349
Edition: eBook
Rating: ★★★★★
Review Written: 21 August, 2014
It's not often I get to pleasure read. Between reading books for the many wonderful tours I participate in, reading many wonderful books from authors who are gracious enough and patience enough to wait on me to get read and reviewed, and reading things for work or to children at work more specifically, there's not a lot of time for my own pleasure of books in reading without a bit of pressure to get it read as quickly as possible. There's also a rare pleasure in finding a book that doesn't martyr or assassinate a female lead character by allowing her to be a strong character without falling into a romance that overpowers any other defining features. As much as I love many of YA novels I read, a large number tend to suffocate me with the romance being forced to the forefront.
LaFevers has found a formula that works within the novel Grave Mercy. Set in Brittany, France, in the 1485 and 1488, Grave Mercy follows the story of Ismae, a young woman who is a daughter of the god Mortain, the god of Death. Spirited away from a terrible fate on her wedding day, Ismae is trained by the Abbey of St. Mortain (a newer concept to keep the old gods current in a time of growing Christianity) in the art of death. This includes learning about her gifts from Mortain, how to kill men without being seen, and being a spy. Planted in the court of Brittany by the Abbess of the abbey, Ismae is thrown into a game of politics she's ill prepared for. With the aid of Gavriel Duval, Ismae must hunt out who's threatening the young duchess's claim to her duchy and help secure a good marriage for her all at the same time without being discovered as an assassin.
The book is full of action, from twists of betrayal at every turn to an inevitable discovery towards the end of who has been conspiring against the young duchess. LaFevers leaves the reader wanting more, to see how Ismae fares at the end by choosing to not take her vows to the abbey, and to see what's happened to other characters introduced early on in the book as well as the duchess.
I highly recommend this book if you're sick of love triangles, forced romances, or simply enjoy a fantastically written historical fiction novel.